Systems for Erosion Protection

Our two-component erosion control system is easy to apply, cost effective, very reliable and the most important environmental friendly.
In a small-scale environment, like a garden, a short drive way or a small hillside it can be easily applied by a watering can. In larger scale like a large hillside, a field or a very dusty construction site the use of a water truck with spraying equipment is the most cost effective way.
Flood Grouting Systems' EC Erosion Control System forms a sandstone like, completely environmental friendly structure in the soil and successfully prevents debris, dust or ashes from polluting the air.
ECS is available in consumer friendly sizes  - 5 gallon pails or 50 gallon barrels as well as in industrial size 275 gal totes. Bigger quantities are available on request.


Wildfires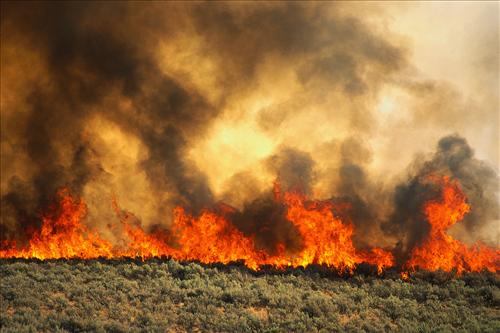 One of the main causes of erosive soil loss in the year 2008 is the result of the California wildfires. When the total ground surface is stripped of vegetation and then seared of all living organisms, the upper soils are vulnerable to both wind and water erosion. In a number of regions of the earth, entire sectors of a country have been rendered unproductive. For example, on the Madagascar high central plateau, comprising approximately ten percent of that country's land area, virtually the entire landscape is sterile of vegetation, with gully erosive furrows typically in excess of 50 meters deep and one kilometer wide. Severe fires can lead to significantly increased erosion if followed by heavy rainfall.

L.A. Times Article from Novmeber 29th 2009:
"See a brown haze above L.A.? It's dust, not fire!
That brown cloud above parts of the Los Angeles area this afternoon isn't smoke from a fire, authorities said; it's just ash and dust being kicked up by the wind.
Moderate winds in the San Gabriel Mountains blew dust from the area burned in this summer's Station fire, filling the air above northeast Los Angeles with a brown haze
Air quality officials are monitoring the ash levels and could issue a wind-blown ash advisory if it worsens.
"The recent rains have helped a little bit to keep some of that ash from getting airborne," said Sam Atwood, a spokesman for the South Coast Air Quality Management District.
The National Weather Service said light to moderate offshore winds with gusts up to 60 mph will be blowing through the region through Monday, drying out the air and "creating heightened fire weather concerns," but the winds are not expected to persist long enough to create severe fire conditions.
Two small brush fires broke out last week because of heavy winds, one above Glendora, the other in Orange County along the 241 Toll Road.
Air quality officials advised people who see thick clouds of ash or dust to use common sense precautions, such as not exercising heavily and staying inside."
We are finally able to provide a way to reduce erosion and flying debris after those kind of fires. This unique system is easy to apply and very cost effective. The system can also be used for solidification of all kinds of soil.